Remember not to throw out your old broken crayons........ You can make single color crayons, rainbow colored crayons, 50/50 crayons the color possibilities are endless, so are the shapes and sizes.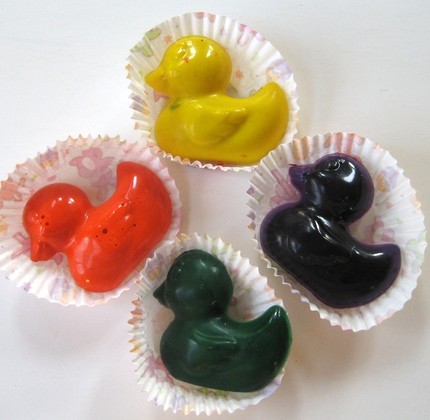 Have lots of crayon stubs that are too small to hold on to? Don't throw them out! You can use them to create big, chunky crayons – and kids can help.
Gather up all of your broken crayons, and cut them into small pieces. (An adult will need to complete this step.)
Preheat the oven to 150 degrees.
Fill the muffin tin with an inch-thick layer of crayon pieces.
Bake 15-20 minutes, or until the wax is melted.
Allow the tin to cool; then pop out the crayons, and they're ready for use.
Tips:
If you don't have a muffin tin to devote to crayon making, you can line your regular muffin tin with foil cups.
Candy and soap making molds can also be used to create fun, shaped crayons.
Recycled crayons make a great no-cost gifts or party favors.